Welcome in Lorch
Welcome in Lorch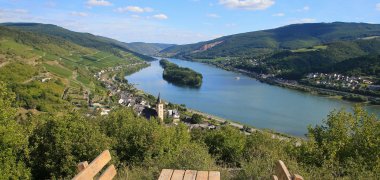 The national road to Lorch takes visitors directly along the Rhine where they have a magnificent view overlooking the romantic Rhine Valley. From the banks of the Rhine the vineyards' slate walls tower up steeply, powerful castles are enthroned on promontories on the Rhine's left and right side, which are the reason for the special flair of the Rhine Valley. 
Lorch has also remained a special place. The town, which can look back on a history of more than 925 years, successfully connects tradition, history and modern structures through the districts of Lorchhausen, Ransel, Ranselberg, Wollmerschied and the climatic spa Espenschied.
The city proper of Lorch, a state-approved health resort, has been part of the UNESCO World Heritage Upper Middle Rhine Valley since 2002. Cultural events, concerts, exhibitions, guided tours and festivals take place throughout the year. With its tree-covered ranges of hills, valleys, woods, and clear brooks the town is the ideal starting point for excursions into the UNESCO World Heritage, the Rheingau or the valley Wispertal, and offers great opportunities for hikers and bikers. From the premium hiking trail "Rheinsteig" visitors have a divine view onto the town and the Rhine Valley.
Many architectural monuments bear witness to the town's turbulent history: fortifications, fortified towers with walls, narrow, medieval streets with archways, corners and alcoves, romantic half-timbered houses and impressive estates characterise the idyllic town until today.
The historic centre of the winegrowing community boasts a particular gem which is in itself worth coming to the Rhine's western border. The 15 metre tall neo-Gothic high altar is situated in the Parish Church of St Martin from 1483. The masterpiece is Germany's biggest carved altar.
One of the most beautiful Renaissance buildings close to the Rhine is located not far from the church. The Hilchenhaus with its five gables taking off toward the sky, was built as dwelling place for the knight Johann Hilchen in 1546 and is an impressive testimony to the former prosperity of Lorch.
Viticulture has always played an important role in the life of the town, Riesling and Spätburgunder are the most important grape varieties in the vineyard sites Rosenberg, Seligmacher,Schlossberg, Kapellenberg, Krone, Pfaffenwies and Bodental-Steinberg. In the wine taverns and Straußwirtschaften wines can be enjoyed in a convivial atmosphere.
Further information about the wine-growers from Lorch/Rhine and/or the wine majesties from Lorch can be obtained here. On each third weekend in July Lorch hosts the traditional "Hilchenfest". Moreover, the wine growers from Lorch take part in the Rheingau Culinary Weeks and also organise the "Zwibbelkuchefest" each year in the middle of October. Additionally, Lorch hosts the Culture Days in autumn.
Quelle: Rheingau.com